Scratchy
is alone. Read this: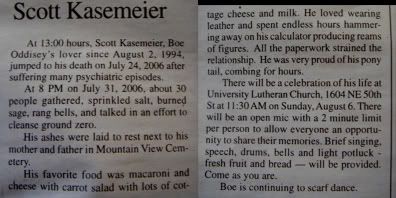 Having read
other work
of his, I can't say that the writing throws me. However, the information communicated is heartbreaking.
Itchy and Scratchy were the first gays I encountered in seattle, or at least the first ones I noticed. It was at Safeway- Scratchy, in full radical faerie ragalia, was leading the much taller, butcher Itchy, in a dirty jockstrap and leather chaps, on a leash in the canned goods aisle. From what I gather, it was early in their relationship- before they were blacklisted for wetting their pants at bars together.
Enjoy these highlights of
an archived story
about Itchy and Scratchy's glory days at
The Puyallup Fair
:
According to the Associated Press, the men say they wore T-shirts and leather chaps over
swim trunks to signify their pride in their sexual orientation.

...the Pierce County sheriff's deputy who asked them to leave, said Kasemeier was wearing
chaps and black bikini underwear
"
with a large amount of pubic hair and flesh exposed
."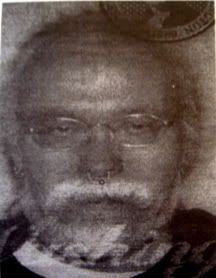 This is the picture that ran in the
SGN.
The ghostly script reads Vashig; it is his driver's license picture. This is the saddest thing. Ever.


and just to be sure you know



http://www.youtube.com/v/98B0n3BVK7k